Planting olive trees in and around Nablus
Olive trees and land are under threat so we help to sustain this important source of livelihood and land use.
Thanks to professional local advice, we can carefully choose villages in need and get help to plant the trees to give them the best chances of surviving.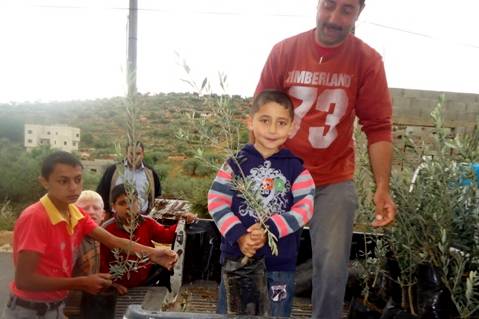 It is your donations which can make a positive difference to the lives of people in Nablus. Please give whatever you can, whenever you can. We really appreciate a monthly commitment because (for example) it will help to fund a student through to the end of their course. All donations help the people of Nablus and surrounding areas.
There are many ways to support FONSA. What suits you?
Donate online throughCharities Aid Foundation
Donate via bank or cheque
Pay by standing order
Monthly payments
If you can, please make a monthly donation so that we can sustain our projects. But choose whatever suits you.
You can make monthly donations online (see above).
Or you pay through your bank; please use our donation form which includes a Gift Aid declaration (if you are eligible). Please either set up the payment through your online banking or fill in the "Standing Order" part of our form and we will process it.
Donating via bank or cheque
If you pay online all necessary options are automatically covered (you can tell us about Gift Aid and you can subscribe to our newsletter).
If you pay through your bank or send us a cheque, please also fill in and send us a donations form.  This lets you make a Gift Aid declaration (if you are eligible). And you can choose whether or not to receive our newsletter.
There are three options:
Transfer money directly to our bank account (numbers are on our donations form)
Send us a standing order (by using our donations form)
Send us a cheque (accompanied by our donations form)
Donation forms should be returned to:
FONSA Treasurer
26 Tay Street
NEWPORT-ON-TAY
Fife
DD6 8AL
Gift Aid
If you are a UK taxpayer who is eligible to make a Gift Aid declaration please tell us.  That enables FONSA to reclaim the tax you paid on all your recent and future donations. Please notify us if you stop being eligible to gift aid your donations.
Charities Aid Foundation (CAF)
We wanted a reliable, affordable and ethical payment processor to make it easy for people to donate to FONSA with a credit or debit card.  Charities Aid Foundation (CAF) fulfilled these objectives. They will process your donation, manage any Gift Aid and ensure that FONSA receives your money quickly and efficiently.  CAF is a registered charity (Charity Commission of England and Wales number 268369), and works with two verified payment solution providers to process your donation.  There is more information on their website.
Contact FONSA
Please send all correspondence about donations to:
FONSA Treasurer
26 Tay Street
NEWPORT-ON-TAY
Fife
DD6 8AL
Or email us at info@fonsa.org.uk